Comfortable, practical extended stay hotels in Knoxville, Tennessee can make your visit to the Marble City a worthwhile time. Whether you're in town for a business trip, a job transfer, or you're touring the University of Tennessee or other college campuses, the InTown Suites near downtown Knoxville and the interstates will make finding your way easier. Our furnished apartment-style suites are comfortable for any weekly or monthly reservation and make an affordable alternative to any month-to-month rental in an apartment complex. See how to plan your stay in Knoxville to get the most out of your experience without overextending your budget.
Knoxville, TN: City Guide
Knoxville was originally the state capital of Tennessee after its settlement in 1786. Located in the Tennessee Valley, the city blossomed and grew after the railroad arrived in 1855. Today, Knoxville is the third-largest city in Tennessee after Memphis and Nashville, and it's the proud hometown of the University of Tennessee Volunteers.
Beyond its southern charm and hospitality, Knoxville boasts natural beauty and breathtaking landscapes. To the east lies the Great Smoky Mountains National Park. To the west stretch many state parks, state forests, and wildlife reservations. Winding its way through the middle of the city you'll discover the bucolic Tennessee River.
Knoxville's history and heritage shine through the numerous cultural festivals and live music events held throughout the year. Museums and historical landmarks around Knoxville boast of the city's rich culture and roots. Popular sites include the Old City district, historic Market Square, the East Tennessee History Center, Knoxville Zoo, and Ijams Nature Center. No need to worry if you're on a budget, as many of the attractions in Knoxville are free.
Take in the breathtaking views on the riverfront, explore the historical sites, monuments, and parks around town, and enjoy the traditional Southern fare found only in Knoxville. InTown Suites offers weekly and monthly rates so you have plenty of time to enjoy the historical and natural surroundings at any pace.
Weekly Hotels in Knoxville, TN

InTown Suites Extended Stay Hotel
InTown Suites furnished efficiency apartments on Gallaher View Road in Knoxville, TN provide comfortable accommodations for any extended stay. Whether you're just visiting, attending school or work training, or making a career change, the convenient location, apartment-style accommodations, and affordable monthly rates help you stick to your budget while in Knoxville.
Conveniently Located Month-to-Month Suites in Knoxville
When looking for monthly accommodations in Knoxville, finding something in a convenient location that's within your budget can be difficult. Book a suite in our Knoxville property on a month-to-month basis or for as long as you need without emptying your wallet. The southwest side of the city affords easy access to everything you want, or need, to do. 
Our extended stay hotel in Knoxville is just around the corner from necessity stores like Walmart (0.4 miles), Target (0.7 miles), and CVS (0.7 miles) so you can stock your suite fridge with all your favorite foods and purchase toiletries, paper products, and any other items you need without overloading your luggage.
Because our Knoxville property is less than 10 miles from downtown businesses and entertainment, and offers easy access to I-75 and I-40, no attraction or work meeting is out of reach. Our property is 15 miles from area attractions like the Knoxville Zoo, Women's Basketball Hall of Fame, Knoxville Museum of Art, American Museum of Science and Energy, and West Hills Park.
Extended Stay Hotels in Knoxville Near College Campuses
If you're looking for an alternative to campus housing or you want to tour local colleges and get a sense of the city, let our extended stay hotel in Knoxville, Tennessee be your host. Not only are these cheaper options than traditional hotels, but you'll have all the space you need to move in and stay awhile, and the location cannot be beat. 
InTown Suites Knoxville is only 9 miles from the University of Tennessee, 2.5 miles from Roane State Community College, and 13 miles from Maryville College so you won't need to worry about a long commute or getting lost during your campus visits.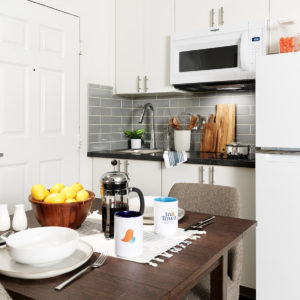 Best yet, our cheap extended stay hotel in Knoxville, Tennessee features in-room amenities that provide apartment-style living for less. Premium suites are outfitted with an upgraded USB charging station that keeps all your devices powered up and ready for whenever you want to get schoolwork done.
Unlike the living arrangement in underclassmen dorms, at InTown Suites you won't need to share your living space, haul your toiletries in and out of the bathroom, or take turns getting ready for a night on the town. Our built-in closets keep everything organized, and the functionality of our new vanity, shelving, and medicine cabinet in the bathroom makes getting ready a breeze.
Extended Stay Hotels in Knoxville Near Medical Centers
Traveling nurses looking for fully furnished weekly hotels in Knoxville, Tennessee will find InTown Suites to be an ideal solution! Not only will the cheap extended stay hotel save you from blowing your housing stipend, but the lease-free living means you have flexibility to transfer jobs without breaking a contract. We also allow our guests to renew reservations online quickly and easily.
Our weekly hotel in Knoxville is conveniently located near medical centers so you can skip on arduous commutes after tiring shifts and be home in no time. We are just 3 miles from the Park West Medical Center, 6 miles from the University of Tennessee Medical Center, and only 7 miles from the East Tennessee Children's Hospital. 
When your assignment lasts for weeks or months, you'll be thankful for the in-room amenities at our Knoxville extended stay property. The kitchens feature a full-size refrigerator, two-burner stovetop, and microwave, plus cabinet space for your cookware and groceries. The kitchenette is perfect for preparing a relaxing meal or checking your email while sipping your morning coffee. We have updated our bedding throughout to make it even cozier, and our Upgraded and Premium suites now feature a recliner or sofa sleeper (varies by suite style) for more comfort. Bonus—the new bed frames in the Upgraded and Premium room styles have storage too!
Amenities at Weekly Hotels in Knoxville
InTown Suites offers its guests three styles of suites—Premium, Upgraded, and Traditional—to perfectly fit any budget while meeting your needs. Suite amenities include in-room kitchens with full-size refrigerators, two-burner stovetops, microwaves, and cabinet space. All InTown Suites accommodations feature large TVs with an expanded channel lineup, custom bedding, and access to high-speed Wi-Fi. There are guest laundry facilities on site, and every room comes with the Triple Checked Clean guarantee.
Traditional Suites have all the basic amenities listed above to make your stay comfortable, and an affordable weekly or monthly rate.
Upgraded Suites are partially renovated and upgraded to include more storage and added comforts beyond what's provided in the Traditional Suites. This room style also features updated bedding and a bed frame with storage underneath, built-in closets, and extra storage in the bathroom.
Premium Suites have been fully renovated and include an updated kitchen (with new cabinetry, appliances, backsplash, and countertops), a drop-leaf kitchen table with upholstered chairs, and new flooring throughout in addition to all of the features from the upgraded suites.
The Cost To Live in Knoxville, TN for a Month
When deciding between a month-to-month rental in Knoxville and an extended stay hotel, our property on Gallaher View Road emerges the clear winner. The average rent in Knoxville is relatively expensive, and that's before utility bills and security deposits. Weekly hotels are cheap by comparison, and because InTown Suites are furnished, you can save money on moving expenses, plus water, electricity, internet, and other utilities are included in your rate. 
Browse the Weekly Offers often to find deals on your next stay in Knoxville or at any of our other InTown Suites locations. The furnished suites have all the basics to make any stay comfortable, and our Best Rate Guarantee makes sure you find an affordable stay.
FAQs About InTown Suites Knoxville Extended Stay Hotels
Why choose InTown Suites' furnished efficiency apartments in Knoxville over a "traditional" apartment?
InTown Suites extended stay hotels will save you on setup costs and hassle. Most apartment complexes will require a credit check, a signed contract or lease, first and last month's rent, a deposit on the electric and water, and most likely a setup fee for internet and cable services, but here at InTown Suites, we don't require credit checks or contracts, and electricity and water are included in your rate.
Why rent a furnished efficiency apartment in Knoxville?
Our InTown Suites weekly or monthly hotel rates can save you a lot of money when moving to Knoxville. Whether you're a student at UTK, a business professional on assignment, or an individual in the process of relocating, having a furnished space to move into means you don't need to purchase furniture right away, and keeps your moving costs lower.
How much is it to rent a furnished efficiency apartment?
Prices vary depending on the length of stay, making InTown Suites Knoxville extended stay hotel an excellent alternative to a rental. The weekly and monthly rates can be renewed with hassle-free extensions and upfront pricing anytime. 
Are utilities included in the rental price for furnished efficiency apartments?
At InTown Suites, the answer is YES! Whether you stay a week or a month, your rate includes electricity, water, cable (with an expanded channel lineup), and weekly cleaning services.