Más almacenamiento. Mayor comodidad. Vivir mejor.
Han ocurrido cosas nuevas y emocionantes en InTown Suites. Hemos estado trabajando en renovaciones completas y parciales de todas nuestras propiedades en los EE. UU. Así es, ¡TODAS nuestras propiedades tienen suites recientemente renovadas disponibles! Cubrimos todo, desde paisajismo y renovaciones exteriores hasta renovaciones interiores completas y parciales para casi 200 propiedades. ¡Nuestro nuevo look fresco te hará sentir aún más como en casa!

Estamos comprometidos a brindarles a nuestros huéspedes la mejor experiencia posible para estadías prolongadas. Continuaremos mejorando, renovando y mejorando nuestras propiedades para brindar un mejor servicio a nuestros huéspedes y nuestras comunidades. Aquí es donde puede encontrar nuestro nuevo Premium & amp; Suites mejoradas en la ciudad: 
Cada propiedad de InTown Suites ofrece al menos 10 Premium Suites, pero muchas propiedades ofrecen más que esto.

InTown Suites ha renovado 26 propiedades que incluyen solo Premium & amp; Suites mejoradas.

Ahora hay 7 propiedades de InTown Suites Select, que ofrecen exclusivamente Suites Premium.


Vea la lista completa de propiedades seleccionadas aquí.

 

Las 162 propiedades restantes ofrecen una combinación de nuevas Premium & amp; Suites mejoradas, así como nuestras suites tradicionales. 

InTown Suites continúa mejorando y renovando todas nuestras propiedades para ofrecer más Premium & amp; Suites mejoradas en cada ubicación.
Las comodidades del hogar
Suites Premium
Las suites Premium de InTown Suites han sido completamente renovadas con comodidades que harán que desee quedarse para siempre.
Explorar suites premium
What Are Premium Suites?
New In-room Kitchens
The brand new in-room kitchens have a sleek and modern look with all new cabinetry, new appliances (full-size fridge, two-burner stovetop and microwave), sparkling backsplash and new countertops. 

We've also added a cozy kitchen table for 2 that's perfect for a sit-down meal or just enjoying your favorite show while sipping your coffee. The new dining set includes a modern drop-leaf table and two stylish upholstered chairs. 
New Bathrooms
The bathrooms at InTown Suites have never looked better or been more functional! It's amazing what a new vanity, shelving, wall hooks and a medicine cabinet with extra storage can do!
Added Comfort & Better Living
Guests will experience all new flooring, new furniture and added storage within their Premium suites.

Snuggle up on a brand new custom mattress with new comfy bedding. Bonus–the new bed frame has storage too! Also, lay back and relax in one of the new recliners or sleeper sofas in your suite.

Need to get some work knocked out? Take advantage of our versatile lift-top tables that expand and move where you need them to so you can easily get work done in the comfort of your suite. Once you're done, just press your table down and back into place again!

Storage, storage, and more storage! You asked and we've delivered with built-in closets, organizers and, the most underrated invention ever, wall hooks. All these additions and upgrades will make settling in simpler. We know you will feel right at home as soon as you enter the room!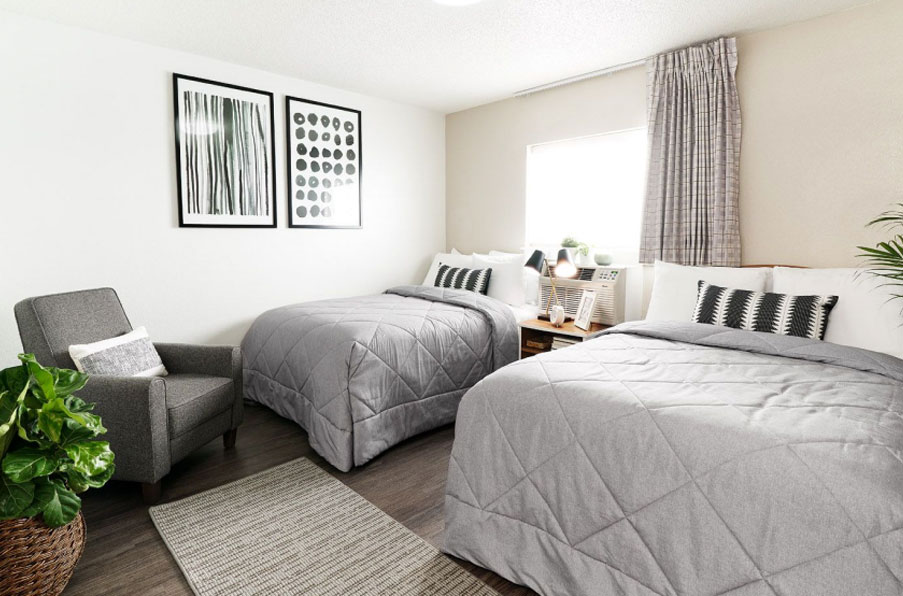 Affordable Extras
Upgraded Suites
Upgraded Suites at InTown Suites have been partially renovated with added amenities and comforts to make your stay even better and, of course, more comfortable.
Find Your Upgraded Suite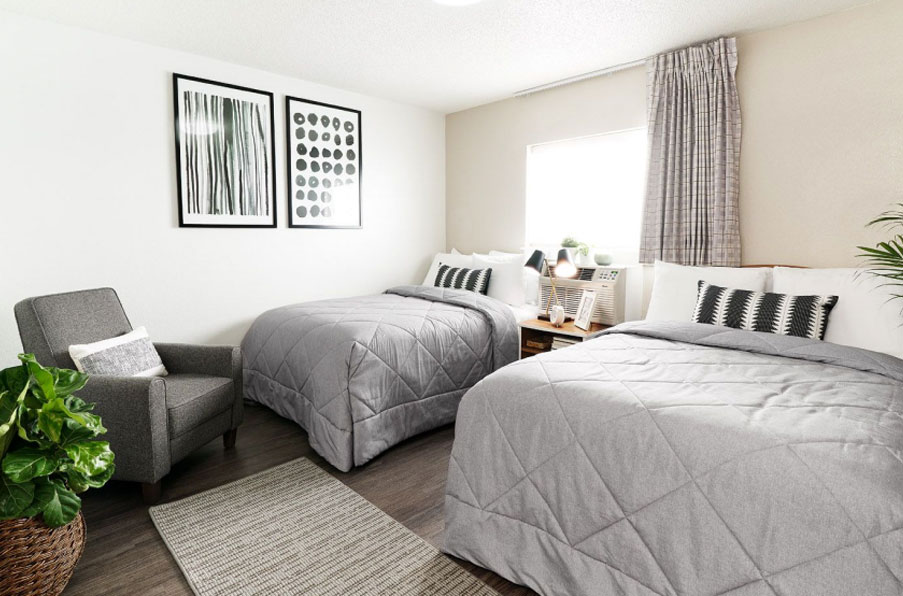 What's Included In An Upgraded Suite?
More Storage
We've added more storage in the form of built-in closets, organizers, bathroom vanities with shelving, bed frame storage and the hugely underrated wall hooks! Now you can store your belongings, keep your room tidy and feel right at home.
Added Comfort
Our Upgraded suites have brand new comfort amenities like reclining chairs, fluffy bedding, custom mattresses and much more!
What Do Renovations Mean For Our Guests?
Taking the time to renovate our properties offers our guests a better experience overall. Whether you're traveling for professional reasons, relocating, looking for alternative housing or off-campus living, we want you to feel all the comforts of home while you're away from home.
We are committed to providing our guests with the best possible extended-stay experience. We will continue to upgrade, renovate, and improve to better serve our guests and our communities. We can't wait to hear what you think about our newly renovated suites!
Some renovated items may differ by property depending on the size of the suite. The suite photos are staged representations of what a suite could look like while staying at InTown Suites. Premium suites are now available in limited quantities at most properties. Make sure you check the list above to see exactly what amenities you'll find in InTown Suites.
**Bedding, towels and wall art are included; personal and decorative items shown like pictures, plants, pots and pans, kitchenware are not included in your stay.
See The Newly Renovated Extended Stay Suites
The extensive renovations at InTown Suites let you choose a traditional, upgraded, or premium suite to fit your needs & budget. Each option includes the extras you'd pay more for elsewhere such as a premium TV lineup, large TVs, comfortable beds, plenty of storage and more. Browse all the new suites and get ready to be more comfortable while you're right at home.
Ready To Find Your Newly Renovated Suite?
Extended stay living is easy at InTown Suites, and with nearly 200 locations nationwide, you're sure to find an InTown suite that is perfect for you.
Find Your Suite Today