Spring Into Savings Any Time Of Year
At InTown Suites, we believe that every time of year is the perfect time of year to set out and explore somewhere new. This season (whichever one that might be), take advantage of affordable accommodations with a stay at InTown Suites — the #1 apartment alternative brand. 
Our business is built around extended stays for short-term and long-term guests, but our goal is to deliver an exceptional experience while providing outstanding value to every guest — no matter how long they stay with us. To accomplish these goals, we offer convenient online payments and renewals, flexible rate options and three suites styles. 
Online Payments & Renewals At InTown Suites
InTown Suites wants to make booking a room or renewing your stay as easy as possible so we've improved our website to create a smooth, simple and seamless process. For a new reservation at InTown, simply browse through our list of properties to find the best location for you. Search by city and state or use the interactive map. Once you've selected your location and dates, book your suite in three simple steps. 
To renew an existing reservation, the process is just as effortless. Head to the "Renew Your Stay" page and fill in your current room information. Once you've confirmed your bill and entered your payment information, just hit "Complete." That's it — our stay has been extended! If you need assistance, there's also a helpful instruction sheet online. 
Does InTown Suites Accept Cash Payments?
Yes! With nearly 200 locations across the US offering weekly and monthly rentals, InTown Suites is your premier extended-stay hotel. Best of all – every InTown Suites hotel accepts cash payments! 
InTown Suites Rates 
At InTown Suites, we offer three flexible rate options to meet your needs. Whether you're traveling for business or pleasure, we have a rate option that will fit your budget. 
1. WEEKLY RATES
Whether you're planning to stay one week, one month or even longer, you'll always get the best deal at InTown Suites. Our suites are typically sold in seven-night increments for a competitive, all-inclusive rate. Select your desired location and find the current weekly rate at InTown Suites. 
Why choose InTown Suites over an apartment? 
Unlike a traditional apartment, InTown Suites never runs a credit check and never requires a signed lease. Simply reserve an apartment-style suite for the desired length of time (always with the option to renew), pay for your stay and you're done — no hassles and no hoops to jump through! Plus, your single payment includes rent, water, electricity, internet and cable. Did we mention housekeeping is also included? InTown is the apartment alternative you've been searching for! 
2. MONTHLY RATES
Staying for more than a week? Book longer and save! Many locations offer monthly rates that provide an affordable alternative to a traditional apartment or rental. This rate offers incredible savings by letting you prepay for several weeks in advance.
3. OUR SPECIAL STOW & GO RATE
Leaving town for a few days? Visiting family or taking a vacation? Use our Stow & Go Rate to hold your room, deposit and tax status. For a small nightly fee, you can keep everything in its place. You'll save yourself time, money and stress by not having to move all of your belongings out of your suite and then back in. Contact the manager at your location for more information. 
Looking for a corporate rate at InTown Suites?
Check out our corporate housing options featuring affordable pricing, extensive amenities, flexible invoicing and easy setup.  
Extended Stay Suites & Amenities At InTown 
InTown Suites now offers three suite styles for guests to choose from. Read through the list of amenities that each suite style offers and choose the one that best suits your needs. No matter what, you'll always enjoy a fully furnished apartment-style suite with affordable rates, in-room kitchens, super-fast Wi-Fi and premium TV channels.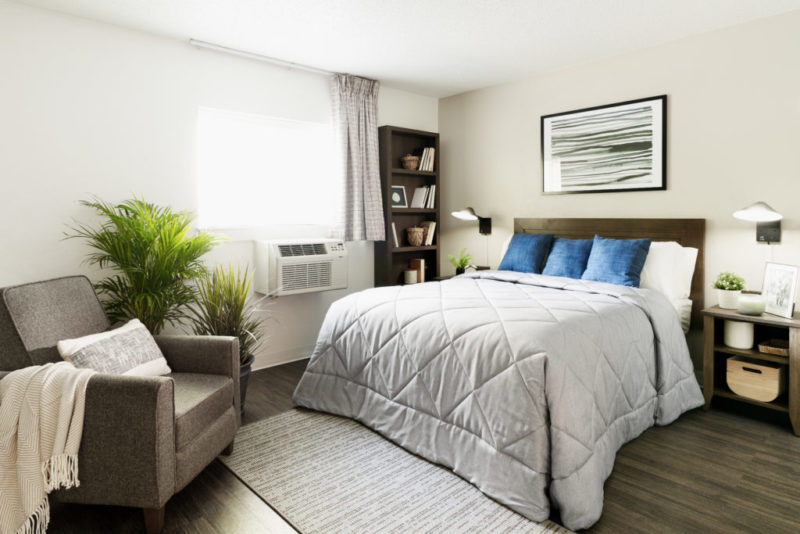 1| Premium Suites
Premium Suites are fully renovated featuring a new modern look and maximum comfort. The kitchens are completely remodeled with new appliances, new countertops, new backsplashes and new cabinetry. These suites also have new flooring and furniture, new dining sets and new upgraded lighting with USB charging stations. You won't regret a stay in our Premium Suites!
2| Upgraded Suites
Upgraded Suites at InTown have undergone significant upgrades and improvements. These suites now include newly added comforts and additional storage. The bathrooms have been upgraded with additional shelving and new medicine cabinets. You'll find added storage under the new bedframe and plenty of space in the new built-in closets. Small space organization is a sinch in these suites!
3| Traditional Suites
InTown's Traditional Suites provide a basic set of amenities at the most affordable price. If you are traveling for business or just looking for a budget-friendly option, these suites are perfect for you. Each Traditional Suite is fully furnished with an in-room kitchen, super-fast Wi-Fi and premium TV channels.
Ready to book your next stay at InTown Suites?  
We're ready to welcome you! Find out what to expect when you stay at InTown Suites, and then browse our extended stay locations across America.