Cheap Things To Do in Dallas
If you're looking to have fun on a budget, there are loads of fun yet affordable activities in Dallas. We've put together a list of our favorite cheap things to do in Dallas — some are even free! Whether you're a fan of the city, a history buff, or somewhere in between, there's something for everyone in Dallas.
Need help navigating the city? Here's a guide to public transportation in Dallas!
1| Fort Worth Stockyards
131 East Exchange Ave, Fort Worth, TX
The Fort Worth Stockyards bring back the true nature of the Cowboy as one of the premier American tributes to the wild west. This national historic district offers a variety of western-themed attractions such as cattle drives, Cowboy Hall of Fame, rodeos, and old-timey saloons. Admission to the Stockyard is completely free, although some individual attractions do cost a small fee. No matter what time of year you are visiting, you'll find a plethora of events, activities, eateries and more.
2| Fort Worth Botanic Garden
3220 Botanic Garden Blvd, Fort Worth, TX
The Fort Worth Botanic Garden is the oldest of its kind in the great state of Texas, featuring more than 100 acres of plants and wildlife. Their most popular attraction is The Japanese Garden featuring a wide variety of plants and trees native to Japan. Due to Dallas's humid subtropical climate, visitors will always find beautiful flowers in bloom. Be sure to check the event calendar to see what exciting special exhibits are on display and what upcoming events are taking place during your Dallas vacation. Tickets are free for children 5 years old and under, $6 for kids ages 6-15, $12 for adults and $10 for seniors 65 years old and older.
3| Dallas Zoo
650 S R L Thornton Fwy, Dallas, TX
As Texas' largest zoo, the Dallas Zoo tops out at more than 106 acres and is home to more than 2,000 animals. With a wide array of encounters, experiences, and exhibits, the Dallas Zoo has established itself as one of the greatest family-friendly educational experiences in all of Texas. The expert zoologists are always there to provide visitors with a unique perspective and interesting facts. The zoo is open 364 days a year, and admission ranges from $8-$21 depending on season and current discounts.
4| Klyde Warren Park
2012 Woodall Rodgers Fwy, Dallas, TX
Located in the hustle and bustle of the Dallas Arts District is the very hip Klyde Warren Park. This pet-friendly park is 5.2 acres of true Texas-sized fun. The park regularly hosts events for all ages and abilities including fitness classes, summer movie showings, storytime, craft workshops and live performers. When hunger strikes, try one of the local food trucks that stop by or hop on a scooter-for-rent and zip over to one of the many downtown restaurants! Klyde Warren Park is open daily from 6 AM to 11 PM.
5| Katy Trail
Dallas, TX
For outdoor enthusiasts and those that love exploring without spending a penny, the Katy Trail is the perfect way to see Dallas. The Katy Trail was built on an old railroad track and is perfect for those who love to bike, run, skate or take leisurely walks. This trail is 3.5-miles long with gorgeous views of Dallas and plenty of local wildlife. Leashed dogs are also welcome on the trail. Check their website for trail etiquette and parking locations.
6| White Rock Lake
8300 Garland Rd, Dallas, TX
White Rock Lake is a natural oasis in the midst of a bustling Dallas. This public park is more than 1,000 acres and offers many fun activities including kayaking, boating, disc golf, more than 9 miles of trails for hiking and biking, picnic areas for gatherings and celebrations, an arboretum, a dog park, playgrounds and fishing piers. It's one of the most visited and utilized parks in the city by both locals and visitors. Enjoy an afternoon on the lake for free.
7| Pioneer Plaza Cattle Drive
1428 Young St, Dallas, TX
Situated on the northwest corner of a 4.2-acre greenspace, cemetery and memorial garden, Pioneer Plaza is a tribute to the history of Texas. You'll feel as if you have stepped back in time to the era of cattle drives and cowboys. The park was artistically designed to recreate a realistic cattle drive with a winding line of 40 longhorn steers and three herding cowboys. The larger-than-life bronze sculptures have become the second most visited attraction in the city. Enjoyment of this rich history work of art is free for all.
8| Heritage Farmstead Museum
1900 West 15th St, Plano, TX
Experience a recreation of what life was like on the Blackland Prairie at the Heritage Farmstead Museum. This living history site is 4.5 acres of indoor and outdoor exhibits, collections, historic buildings and more! The museum collection features over 10,000 objects and artifacts depicting what prairie life was like in the Victorian Era. The types of objects you'll see include furnishings, domestic accessories, tools, textiles and clothing all used or worn from the late 1800s to the early 1900s. Join a daily-held guided tour or check the events calendar to attend one of the seasonal festivities.
9| Lone Star Park
1000 Lone Star Pkwy, Grand Prairie, TX
If you are looking for more excitement and a unique experience, take the family to the horse races at Lone Star Park during your Dallas vacation! There are multiple ways to view and enjoy the live races at Lone Star Park including General Admission (first-level seating and open-air patio seating), Terrace (second-level indoor seating) and Silks Dining (indoor, fourth-level dining room with TVs broadcasting the race and a panoramic view). You can also enjoy the race from Bar & Book, the on-site bar and lounge with hundreds of large screen TVs broadcasting horse races from around the world and sporting events. Ticket prices start at $3 for general admission.
10| North Park Mall
8687 N Central Expressway, Dallas, TX
The North Park Mall is a gigantic two-story shopping complex that draws hundreds of shoppers every day. Offering more than 200 stores and eateries, this shopping haven has something for everyone. Stores within North Park Mall regularly offer sales and promotions and shoppers just love the visual art scattered around the mall that was created by local, up-and-coming and renowned artists. The mall also hosts a variety of events like special performances, workshops and demonstrations. North Park is open seven days a week.
11| Dallas Museum of Art
1717 N Harwood St, Dallas, TX
The Dallas Museum of Art is a staple of Downtown Dallas, located in the Arts District. As one of the largest art museums in the country, DMA not only features special exhibitions throughout the year but also houses an impressive permanent collection of pieces created by local and international artists. The Museum offers free general admission and a nominal charge for late-night events such as concerts, film screenings and performances. Aside from these after-hours events, the DMA also hosts a variety of free talks, tours and programs which provide a wealth of knowledge on each exhibit. The Museum is open every day but Mondays.
12| Perot Museum of Nature and Science
2201 N Field Street, Dallas, TX
The Perot Museum of Nature and Science is another gem in the Dallas Arts District that everyone will enjoy – including your kids! Each exhibit at the museum depicts a different marvel of the scientific realm including dinosaurs, gemstones, tornados, natural and alternative energy sources, outer space and so much more. Catch a 3D film during your visit to the museum and experience an immersive visual depiction of prehistoric worlds, underwater worlds and worlds unseen. The Perot Museum of Nature and Science offers numerous special programs appropriate for learners of all ages like guest speakers from National Geographic, summer camps and after-hours events. The museum is open every day but Tuesdays with tickets starting at $13.
13| Fort Worth Museum of Science
1600 Gendy St, Fort Worth, TX
You kids won't forget a day spent at the Fort Worth Museum of Science and History. From the newly-expanded Children's Museum to the recently updated DinoLabs, the Fort Worth Museum gives kids of all ages a chance to explore, play and learn – all in one place! Permanent exhibits depict the science behind dinosaurs, space and energy. There are also heritage galleries, inventor studios and special temporary exhibits. Don't forget about the planetarium, Cattle Raisers Museum, IMAX theater and on-site eatery! The museum is open Wednesdays through Sundays. Tickets start at $11 for kids ages 3-11, $14 for seniors age 65+ and $16 for adults.
Cheap Hotels In Dallas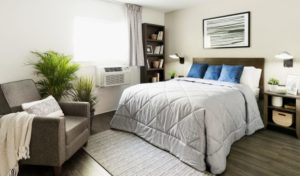 InTown Suites boasts 14 hotels in the Dallas-Fort Worth area. Our property on Brookriver Drive is located near the Dallas Love Field Airport and the Trinity River, just 6 miles from Downtown Dallas. This property offers three suites styles for guests to choose from including fully renovated premium suites. Each fully-furnished, apartment-style suite has an in-room kitchen, super-fast Wi-Fi, large HDTV with premium channels and so.much.more! Book a stay at this convenient extended stay hotel in Dallas or explore a list of all our Dallas-Forth Worth hotels.