Table of Contents:
Visiting Charleston SC
Visiting Charleston, SC today is like taking a step back in time. Cobblestone streets lead to preserved Antebellum homes adorned with intricate wrought-iron gates leading to lush, fragrant gardens. While this is the staple image of Charleston, the glory of this historic city goes beyond her colorful homes and skyline of steeples.
A Short History Of Charleston
Settlers first arrived on the shores of present-day Charleston in March 1670. Due to its strategic location near the Cooper and Ashley Rivers, the colony quickly grew. By 1740, Charles Town (named in honor of Brittain's King Charles II) was the most important port in North America.  
As many colonies did, Charles Town struggled in its early years with diseases, hurricanes and fire, but despite these disasters, the population grew. Part of this continuous growth was due to its religious tolerance. This openness brought numerous religious sects to the colony including Lutherans, Roman Catholics, Congregationalists, Presbyterians, Baptists, French Huguenots and Methodists. Charles Town became known as "The Holy City" for its origins in religious diversity, a nickname it still carries today. 
Charles Town was reborn as Charleston in 1783, following the Revolutionary War. The port city thrived over the next 80-some years but took a big blow to its economy during the Civil War, with numerous battles taking place in and around the city. The city's livelihood was further threatened by an earthquake in 1886 that damaged more than 2,000 buildings, but Charlestonians were a resilient people and within a year of the earthquake proudly boasted, "Charleston has once more risen from her ashes."
Today, Charleston stands tall as a beautifully preserved city with historic charms and architectural treasures. The Holy City's rich 300-year history gives visitors a glimpse into the past while enjoying the present. 
Fun Facts About Charleston's Architecture:
Piazzas, Charleston's famous multiple-level exterior porches, were always built facing the south or west to ensure a breeze. Further, the floors of the piazzas were built with a downward slope to allow for rain to run off. 

Many homes in Charleston were built using yellow pine or cypress that was cured in saltwater making it rot and termite resistant. 

After the 1886 earthquake, homes were retrofitted with long metal rods running the length of the building and capped with rod covers (the round metal plates seen on buildings around the city). Some rod covers are more unusual like those on the Roper Mansion, which are shaped like lion heads. 

Because stone and marble weren't available in the Lowcountry and marble cracks in the humidity, faux finishes were created. Faux stone was created on the exterior of brick buildings using stucco that was scored with lines while wet to simulate cut stone. Faux marble was created using marbleized paper that was cut into rectangles and mounted on a wall like wallpaper. 

The well-known "Charleston green," seen around the city on many shutters and doors, was part of the renovation efforts after the Civil War. With very little money available for sprucing, it is said that the North donated black paint, but the locals were hesitant to use it. By mixing it with a local bright yellow paint, a dark green was created that became Charleston's signature color.  
Best Time To Visit Charleston SC
In 2019, Charleston was voted the #1 Best City in the World by Condé Nast Traveller, and after just one visit, it becomes evident why the city has bewitched so many, for so long. Charleston is a bustling city most any time of year with thousands of tourists flocking to the area to explore the edgy art galleries, fashion-forward boutiques, exciting annual festivals and authentic Lowcountry cuisine. 
Spring Weather In Charleston
Charleston in the spring is bustling and blooming. Temperatures start to rise, moving from the mid-60s in March to the high-70s in May. The rain actually takes a slight dip in the spring before jumping back up in the summer months. March has an average rainfall of 3.3 inches and May's average rainfall is the lowest of the year at 2.16 inches. Besides the mild temperatures and decreasing rainfall in the spring, Charleston is a great spring vacation destination with mild weather, numerous annual events and beautiful blooming gardens.
Summer Weather In Charleston 
Summertime is the most crowded time of year in Charleston. If you are planning to visit in the summer, be sure to pack your sunscreen and your umbrella. Visitors will experience temperatures in the mid to upper 80s with an average rainfall of 5.59 inches per month. July is typically the hottest month of the year, but August receives the most rainfall. The best way to beat the heat during the summer months is to plan some fun indoor activities or a trip to one of the local beaches. 
Fall Weather In Charleston
In our opinion, fall is the best time to visit Charleston, SC. The temperatures begin to cool starting in the low 80s in September and reaching the high 60s by November. Rainfall also decreases through the fall months, starting with an average of 5.76 inches in September and dropping to only 2.19 average inches in November. Charleston doesn't experience the typical fall foliage as the majority of the trees are evergreens, but fall is found in other ways around the city including seasonal local brews, vibrant blooming wildflowers and pumpkin patches.  
Winter Weather In Charleston 
Depending on your preference, Charleston's typical winter weather may not fall under your category of cold. Temperatures average in the upper 50s with an average rainfall of 2.68 inches. This cooler weather brings with it fewer crowds, sparkling lights, holiday festivals and oyster roasts. Winter is a truly unique time of year to enjoy a trip to the Holy City. 
Upcoming Events In Charleston SC

Each season in Charleston is filled with annual events. From food truck festivals and craft beer events to historic home tours and fashion-filled runaways, there's an event for everyone to enjoy. Here are just a few of the upcoming events in Charleston this year. 
Spring Events In Charleston
The

Festival of Homes & Gardens

typically begins in March and runs for a month each spring. Sponsored by the Historic Charleston Foundation, this event offers interior tours of 150 privately-owned homes and gardens in 11 historic neighborhoods around the city. 

Charleston Fashion Week

showcases the spring collection of local boutiques and emerging designers of the southeast across multiple runways. The event raises money each year for a local charity. 
Summer Events 
Spoleto Festival USA

is an annual performing arts festival established in 1977. Starting the Friday of Memorial Day weekend and running for 17 days, theatres, music halls and art centers are filled with the finest performers from around the country. Disciplines include opera, dance, theater and a wide range of music like a symphony, jazz, folk and choral. 

Patriots Point's 4th of July Blast

was described by the

New York Times

as one of the top Fourth of July celebrations in the country. This action-packed celebration includes live bands, kids' activities, delicious food and local libations. The best seat in the house is aboard the USS Yorktown flight deck when the fireworks begin!
Fall Events In Charleston
MOJA Arts Festival

is an annual event that highlights and celebrates the contributions of the African-American and Caribbean cultures to the area. Beyond visual art, the event showcases dance, music, theater, traditional crafts, ethnic food and much more. 

The

Cooper River Bridge Run

was established in 1978 by a local doctor. At this inaugural event, 768 participants ran over the Silas Pearman Bridge. While the bridge has changed over the years, the spirit of the race continues today with 40,000 runners and walkers participating each year. 
Winter Events In Charleston
The

Charleston Boat Show

takes place each January at the Charleston Area Convention Center. Outdoor enthusiasts can find everything from yachts and speed boats to jet skis and Jon boats.

Oysters on the Point

is an annual monthly event that takes place each winter from December to March. Each event spotlights fresh local oysters, a Bloody Mary bar, live music and a variety of craft beer from local microbreweries. 
Christmas In Charleston 

The Holy City comes to life each holiday season with jolly events and festive decorations. Throughout the city, you'll see historic homes decorated in period fashions, special holiday displays in shop windows and magical events around every corner. Here are two of the must-attend holiday events taking place in Charleston this holiday season: 
Year after year, the Annual Holiday Festival of Lights proves to be an unforgettable event where the community gathers to kick off the holiday season. From mid-November until the beginning of January, millions of multicolored lights illuminate the sky as visitors make their way through over 3 miles of magical light displays.
The Festival offers plenty of fun for the whole family, including:
A driving tour full of breathtaking and exciting holiday light displays

A holiday train that provides an up-close look at all the magnificent lights

Displays of handmade gingerbread houses

Giant greeting cards made by local students

A beautiful, Victorian-style carousel

Plenty of treats, activities and shopping
If the Nutcracker has never been part of your holiday tradition, you should give this beloved ritual a try. But make sure you pick a top-notch performance, like the Moscow Ballet's Great Russian Nutcracker. The performance boasts 40 world-class Russian dancers, playful 10-foot tall puppets, over 200 breathtaking costumes and stunning sets.
Set to take the stage at the North Charleston Coliseum & Performing Arts Center this December, the event is just one more reason to visit Charleston for the holidays. 
Best Restaurants In Charleston SC
Charleston is well known for its delicious Southern cuisine. Primarily comprising seafood (think catfish, shrimp, oyster and crab) and hearty grains straight from the earth (like rice and grits), Lowcountry cuisine is sought-after around the world for its fresh and flavorful ingredients. Since there are literally hundreds of restaurants in the Charleston area to choose from, we've scoured the streets and found the must-try downtown restaurants, the top cheap eats and the best kept local secrets. 
Must-Try Charleston Downtown Restaurants
Sweetwater Café is a low-key joint that serves a creative breakfast, delicious southern brunch and pub-grub-style lunch. A few favorites are the chocolate chip pancakes, french toast with fresh cinnamon butter, fried green tomato BLT, homemade chicken salad and fried local seafood. SWC has a 2nd location at 801 Folly Road on James Island.
From sweet tea glazed fried chicken to Lowcountry shrimp and grits, Toast of Charleston welcomes you with authentic local cuisine and a heaping side of southern hospitality. Toast serves an amazing breakfast that includes chicken and waffles, handcrafted espressos and lattes, stuffed french toast and so much more. Their lunch menu is simple yet delightful and dinner is served up each evening with live entertainment. 
Pearlz Oyster Bar is the place to go if you are looking for amazing seafood that won't cost you an arm and a leg. Serving everything from oysters on the half shell to grilled and fried seafood, Pearlz has it all. They have an incredible Happy Hour menu served every weekday, Frosé specials served every day (frozen rosé wine) and daily fresh-catch dishes. 
4. 82 Queen
| 82 Queen Street, Charleston
Open 365 days a year, 82 Queen serves Charleston's most authentic southern cuisine in a lush courtyard setting and intimate indoor dining. Their menu features shrimp and grits, crab cakes, jambalaya and their award-winning she-crab soup. Coming up on its 40th anniversary, 82 Queen has remained a staple of Charleston's culinary scene by holding true to its roots of fresh local ingredients served with Lowcountry flair. 
A landmark in Charleston for over 30 years, the Charleston Crab House serves great seafood and "a darn good time." Besides the world-famous steamed crab pot, their menu offers steamed crab legs, lump crab cakes, wasabi-crusted tuna, seafood platters and slow-cooked prime rib. Charleston Crab House has two other locations in the area, but the downtown location boasts the best rooftop views overlooking the City Market. 
Top Cheap Eats In Charleston 

1. Butcher & Bee
| 1085 Morrison Drive, Charleston
Serving up delicious sandwiches, salads and other sides using time-honored preparation techniques, Butcher & Bee takes pride in the food they prepare. Boasting the finest local ingredients the region has to offer, you'll get a great taste of Charleston at a great price.
A legendary spot for BBQ goodies in Charleston, Bessinger's serves what many have come to know as Southern-style cooking – heaping plates of pork with delicious sides like mac 'n cheese, coleslaw, collard greens, cornbread and more. Get ready for a true taste of the South!
Offering lots of local goodness for breakfast, lunch and dinner, Page's Okra Grill is a top choice for cheap eats in Charleston. From buttermilk biscuits to sought-after omelets, Lowcountry crab cakes, BBQ pork and Southern fried chicken livers, Page's can't be beaten!
4. Sesame Burgers & Beer
| 4726 Spruill Avenue, N. Charleston & East Cooper Plaza Shopping Center, Mt. Pleasant
With one location in North Charleston and another in Mt. Pleasant, you are always close by.  Sesame Burgers & Beer is a great place to grab a cheap bite with big flavors. Sesame's serves as many burger varieties as you can imagine including bean, beef, chicken and turkey. Be sure to check out the daily specials for an even better deal.
5. Bon Banh Mi
| 162 Spring Street, Charleston
How about a little southeast Asian cuisine in the Lowcountry? Head to Bon Banh Mi in the Elliotborough/Cannonborough neighborhood and get your fix with crusty baguettes, pickled vegetables, tofu, beef ribs and more! Be sure to try the Pork Banh Mi sandwich, the true star of the menu. Bon Banh Mi also has a location in Mt. Pleasant at 1440 Ben Sawyer Boulevard.  
A cheap eats list wouldn't be complete without at least one pizza joint, so here it is! D'Allesandro's Pizza is a local hot spot for cheap beer and pizza. Started by two Philadelphia natives, Dal's menu is a collection of hand-tossed pizzas, calzones, salads, and caljoes (a calzone in sandwich form). D'Allesandro's also has locations in Mt. Pleasant and Summerville.
Best Restaurants In Charleston: Locals' Picks

Cuban Gypsy Pantry is a food truck turned brick-and-mortar restaurant. While the original downtown location closed in 2020, Gypsy's larger second location in North Charleston continues to thrive serving up a delicious collision of Cuban and Lowcountry cuisines. Menu favorites include beef picadillo, shrimp creole, carne asada, empanadas and more. 
2. Chez Nous
| 6 Payne Court, Charleston
Described as a "pint-sized, neighborhood restaurant," Chez Nous brings European charm to the Lowcountry. The menu changes daily featuring a new set of entreés, appetizers and desserts but always using locally sourced ingredients. Chez Nous' food and wine are inspired by Southern France, Northern Italy and Northern Space. 
R. Kitchen boasts a completely unique dining experience. Instead of hiding the kitchen and chefs at the back of the restaurant, R. Kitchen invites guests into the cooking process. The kitchen is located at the front of the restaurant allowing guests to interact with and observe the chefs as each course is prepared. Reservations are required for the five-course dining experience with a new menu every night. R. Kitchen now has a second location in West Ashley. 
Voted the Best Hot Dog by Charleston City Paper since 2000, Jack's Cosmic Dogs has been featured on two of Alton Brown's Food Network shows. The menu features out-of-this-world hot dog concoctions that always use freshly made toppings and ingredients. Be sure to save room for dessert because Jack's serves the best milkshakes you will ever have. 
5. KinFolk
| 4430 Betsy Kerrison Parkway, Johns Island,
Located just south of Charleston on John's Island, KinFolk pays homage to the chicken shacks of the south. Ask a local and they'll surely agree, KinFolk has the hottest fried chicken in Charleston. The menu also includes pulled pork, spare ribs and classic southern sides.  
Things To Do In Charleston SC
A port city defined by its cobblestone streets, pastel antebellum houses and southern charm, Charleston is a welcoming destination to all, named the #2 Friendliest City in the US by Condé Nast Traveller in 2020. Nestled on the South Carolina coast, Charleston's culture and architecture blend English, French, West African and traditional Southern influences to create a unique experience you won't find anywhere else in the country. We've created a list of the best attractions and tours that will give you and your family a true Charlestonian adventure. 
Free (& Almost Free) Things To Do In Charleston SC
Charleston drips with historic charm and Lowcountry elegance, but there are plenty of activities to enjoy that won't break the bank. Charleston offers plenty of sights, attractions and activities that are free (or almost free)! Read on for a few of our top suggestions…
One of the most vibrant and historic places in all of the South, the Charleston City Market shouldn't be missed. Spend an afternoon window-shopping for art, taking in live entertainment and chatting with local vendors and entrepreneurs. It will only cost you a few bucks to sample the wonderful culinary delights you're sure to stumble across at the market.
Boasting three districts—the Upper King Street Design and Dining District, the King Street Fashion District and the Lower King Street Antiques District—there's an incredible amount to explore in the King Street area. Set aside a day for exploring the many art galleries, antique shops, book stores, gift shops and so much more. There are plenty of places to grab a coffee or a bite along the way!
Stretched along the Cooper River in Charleston, the Waterfront Park is a twelve-acre park featuring many beautiful and breathtaking fountains, gardens, green spaces, paved paths and a wooden pier jutting out over the Charleston Harbor. Spend a morning strolling through the Park, or catch the sun setting over the harbor at night. Be sure to check out the famous Pineapple Fountain in the middle of the park and the splash-pad-style fountain located at the north entrance of the park! 
*Fun Fact about Charleston's Pineapple Craze* 
When visiting Charleston, you may begin noticing the prevalence of pineapples around the city, from the fountain in Waterfront Park to fence post toppers and storefront plaques. Since colonial days, the pineapple has been a symbol of hospitality. Legend has it that sea captains sailing the Caribbean would come home to Charleston with exotic fruits. Upon arriving home, the captain would spear a pineapple on his fence post to let friends know he was home safely and to please visit. He would then serve food and drink and regale visitors with tales of the high seas. 
This hub of the African American community in Charleston helped train generations of students for professional careers and leadership roles. Today, the Avery Research Center hosts educational exhibits and is home to more than 4,000 source materials showcasing the history, traditions and influence of African Americans throughout U.S. history. Admission is free and public tours are offered daily.
The Gateway Walk first opened in 1930 in celebration of the 250th anniversary of Charles Town's founding. Named for the ten wrought iron gates you'll find along this shady pathway, the Gateway Walk meanders through several historic districts in Charleston. Beginning at St. John's Lutheran Church, crossing King Street and ending at St. Philip's Episcopal Church, this stunning garden walk is just off the beaten path enough to offer a quiet respite from the busy downtown core. 
For tea fans, the Charleston Tea Plantation is the only place in America you can tour a working tea plantation and factory. The plantation is home to over 300 varieties of tea plants and offers a free tour of the factory. The charming trolley tour of the lush green grounds is just $10 per person ($5 for children). Ideal for a day trip, the plantation is located about 20 miles from Charleston on picturesque Wadmalaw Island and is a must-see for any visitor.
7. Marvel at the Art Galleries in the French Quarter District 
Why visit just one art gallery when you can easily visit many? Stroll through the French Quarter District and visit the galleries that make up this trendy neighborhood. The Charleston Gallery Association recently announced the return of First Friday Artwalks. On the first Friday of the month, you'll have the chance to meet artists, mingle with friendly locals and sample some delicious wine and cheese. The French Quarter District lies between Meeting Street and the Cooper River, running from Hasell Street to Broad.
The Charleston Farmers Market at Marion Square Park is a must-visit for any weekend itinerary. Running every Saturday from April to December, the market is alive with local food vendors and artisans and features a variety of live music from gospel to bluegrass. Pony rides are available for children, and there are lots of options for breakfast or lunch for under $10. Marion Square Park is perfect for people watching and thanks to its location in the heart of the city, it's an ideal base to begin your Charleston adventure.
9. Hit the Beach for a Day
A beach escape is within easy reach of downtown Charleston. Just 20 minutes away is Folly Beach, a quirky surfer's village home to awesome bars and restaurants. It's a big hit with families and locals, and you'll often see surfers hitting the waves along "The Edge of America". The beaches of Sullivan's Island are pristine, and with smaller surf than Folly Beach, it's a great destination for those with younger children. Parking is free around both Folly and Sullivan's Island beaches.
10. Bridge the Gap
Connecting downtown Charleston to the suburb of Mount Pleasant, the Arthur Ravenel Jr. Bridge was constructed in 2005 to replace two older bridges spanning the Cooper River. This striking cable-stayed bridge is the second-longest of its kind in the western hemisphere and features a pedestrian and bicycle lane. Making the crossing is a great way to inject a little activity into your city exploration. You'll be treated to sweeping views of the city and ships docked at Patriots Point Naval and Maritime Museum.
Tours In Charleston SC
Any time of year is a great time to explore the Holy City. Stop by one of the visitor centers in the area, grab a Charleston walking tour guide and easily learn about many of the historical landmarks found at every turn. The design district around King Street is full of cool boutiques that wouldn't be out of place in New York City. Head to St. Philip Street for ivy-draped historic neighborhoods brimming with 19th-century historic charm. Stroll along the waterfront Battery at White Point Gardens past cannons and mossy live oaks and take in incredible views of Fort Sumter and Charleston Harbor. 
If you are looking for more insider knowledge, consider booking a guided tour for a nominal fee. There are several types of guided tours available including plantation tours, ghost tours, carriage tours and more. 
Plantation Tours In Charleston
Magnolia Plantation & Gardens | 3550 Ashley River Road, Charleston
Magnolia Plantation is a 17th century estate that was acquired by the Drayton family in 1676. The plantation is still owned by the Drayton's today and boasts the last large-scale, Romantic-style garden in the country. Magnolia Plantation is the oldest public tourist site in the Lowcountry and houses the oldest public gardens in America (c. 1680), named one of "America's Most Beautiful Gardens" by Travel + Leisure Magazine. 
There are over 11 tours available at the plantation each featuring a different piece of its breathtaking beauty and rich history. The "Plantation House Tour" takes guests through 10 rooms in the home that are furnished with heirlooms of the Drayton family including early-American antiques, porcelain, quilts and more. Experience Magnolia's wildlife on the "Nature Tram Tour." This tour gives visitors a chance to see even more of the 600-acre plantation. Check the plantation's website for a full list of tours, times and pricing. 
Boone Hall Plantation | 1235 Long Point Road, Mt. Pleasant
You surely won't forget your first drive into this plantation. Leading to the estate is the Avenue of Oaks, a long straight path lined with mossy draping oaks. Started by Major John Boone in the 1680s, Boone Hall Plantation was originally a cotton and brick manufacturing plantation. Today, the plantation is more agriculturally focused, producing crops nearly year-round. The plantation also stands as a historical landmark and offers tours of the home and grounds to visitors. 
The "Plantation Tractor Tour" takes guests around the grounds (totaling 738 acres) while a guide dictates the agricultural and natural history of the plantation. A guided "House Tour" is offered, taking guests through the first floor of the estate. Unfortunately, the second and third floors are not a part of the tour since these are the private residence of the plantation's current owner. 
Next, check out the "Black History in America Exhibit." This self-guided tour takes you through "Slave Street," a row of original slave cabins that are dressed to present different periods in black history. The tour features a pre-recorded presentation that begins to play as you enter each cabin. Last, but certainly not least, you must attend "Exploring the Gullah Culture," a live presentation on the evolution and development of the Gullah culture in the Lowcountry. Given by a descendant of the Gullah people, the history of the culture is presented through storytelling, dance and song. Boone Hall is the only plantation in the area that presents the history of the Gullah people in this way. Find the complete list of tours offered at Boone Hall along with pricing and schedule information on the plantation's website. 
Middleton Place | 4300 Ashley River Road, Charleston
Middleton Place is a carefully preserved 18th-century plantation and home to the oldest landscaped gardens in America (c. 1741). Beyond the home and gardens, visitors will find stableyards, an exhibit on the slaves who worked at Middleton Place, a restaurant, a cemetery of past residents and much more. 
There are several guided and self-guided tours available at Middleton Place to help visitors learn the rich history of the property and knowledgeably explore the grounds. The self-guided "House Museum Tour" takes you through the only surviving portion of the main home, originally built in 1755. The other two-thirds of the home were burned by Union troops in 1865. The "Guided Garden Tour" takes guests through the 65-acre garden while teaching them about the land, the gardens and the people who created and maintained them. These are just a couple of the tours provided through Middleton Place. Check the plantation's website to learn about all of the tours available, their pricing and their schedules. 
Charleston Ghost Tours
Charleston Ghost & Graveyard Walking Tour | Bulldog Tours
You will find several ghost tours available in Charleston, but Bulldog's ghost tour is the only one that can take you into Charleston's oldest graveyard at night. Explore the streets and alleyways of the haunted historic district and hear stories of ghosts, haunted houses, voodoo and Lowcountry superstitions. Easily book your tour online today. 
Candlelight Walking Ghost & Cemetary Tour | Ghosts of the South 
Ghosts of the South takes guests into the heart of Charleston's haunted history. The one-mile candlelight walking tour makes several stops exploring sights such as a haunted house and hotel, cemeteries and the famous dungeon. The tour includes a mix of history and the supernatural and runs nightly at multiple times. Book your ghost tour online today. 
Haunted Harbor Ghost & Pirate Tour | Sandlapper Water Tours
Sandlapper Water Tours is the only company in Charleston that offers a ghost tour on the water. You'll see a completely new side of the Charleston Harbor, as guides regale you with tales of pirates that once ravaged the harbor. The tour takes you to some of the most haunted sites in the city that can only be reached by boat. Learn about local ghost lore and the deep-rooted superstitions that surround the area. Book a ghost boat tour today. 
Charleston Carriage Tours

Old South Carriage Co. is easily recognized by the red sash worn by their tour guides, their self-proclaimed symbol of quality. Old South offers several carriage tours including a private tour for up to 16 people. Learn about the rich and vast historical homes, areas and attractions on these one-hour carriage tours. Check out the full list of tours and packages online.  
One of the oldest carriage tour companies in the city, Palmetto Carriage Works offers public and private carriage tours, available in the daytime or evening. Learn about buildings, history, architecture, flora and the people that make up the "Holy City." You'll see houses, gardens, mansions, churches, parks and more on these tours. Reserve your historic carriage tour today. 
Charleston Carriage Works 
Charleston Carriage Works began when the Olde Towne Carriage Co. owner decided to close his business. A minority owner in the original carriage company and few key staff members decided they would take their carriage tour experience and continue the dream. Charleston Carriage Works is dedicated to providing excellent Charleston tours and a safe working environment for their horses. They are also the only tour in town that allows dogs! Book your Charleston carriage tour today. 
Explore Charleston Like a Local
We asked a couple of Charlestonians, "What were your favorite attractions that most visitors wouldn't ever hear about? You know, the hidden gems of the area." Here are a few of their recommendations for exploring Charleston like a local. 
This 943-acre park was built with families in mind. There are miles of trails and bicycle paths, boardwalks, picnic areas with grills, a playground and more.    
This park is recommended for dog lovers, with an on-site dog park and miles of trails that are dog-friendly. The park also has saltwater fishing and crabbing, picnic areas with grills, a climbing wall, a splash pad, a disc golf course and watersport rentals.  
Get outside and enjoy Charleston's natural beauty. Charleston Outdoor Adventures offers boat, dolphin and fishing tours plus kayak and paddleboard rentals.  
Local Brewery & Distillery Tours 
Local beer has become a big part of the city and is basically on every menu in town.  Holy City Brewery offers tours of the brewery, has an on-site restaurant and hosts live music on the regular. Firefly Distillery offers tours, tastings and live music events. They also have a backyard of fun that you, your two-legged and four-legged friends are invited to enjoy.   
Jeremiah Farm is an educational farm and Grade A goat dairy. Visitors can snuggle baby goats, learn about gardening and even try milking a goat themselves. Jeremiah Farm is more off the beaten path but offers loads of fun. They also have fresh or frozen goat's milk, fresh eggs, local produce and herbs for sale. 
Charleston Hotels
Planning a trip to Charleston is almost like planning a trip out of the country –with its historic downtown, cobblestone streets, nearby beaches, and so much more! If you're looking to plan a getaway or vacation, consider booking an extended stay at InTown Suites. Each property offers three suite styles to choose from that are sure to fit your needs and your budget. 
InTown Suites Charleston Accommodations
InTown Suites has been working on complete and partial renovations to all our properties across the U.S. From landscaping and exterior facelifts to complete and partial interior renovations, our new fresh look will make you and your family feel even more comfortable while on vacation. 
Traditional Suites at InTown 

Our Traditional Suites are perfect for the adventurous nomad just looking for the basics at the most affordable cost. We are sure you have big plans during your Charleston vacation to explore, experience and enjoy the city. Our Traditional Suites are perfect for refueling and recharging after each fun-filled day. 
Here are the amenities you will find in our Traditional Suites:
Fully-furnished, apartment-style suites

In-room kitchen with a full-size fridge, two-burner stovetop, microwave and cabinets

HDTV with premium channels

Super-fast Wi-Fi

Weekly Housekeeping

On-site guest laundry facility
Upgraded Suites at InTown
Our Upgraded Suites have all the basics of the Traditional with added comforts and more storage. This suite style is great for couples who are planning a longer vacation. You will have plenty of space to store all of your belongings no matter how long you plan to stay. The added comforts of our Upgraded Suites will make date nights in or lazy days in bed even better. 
Here are the additional amenities you will find in our Upgraded Suites: 
Upgraded bathrooms with new medicine cabinets, double mirrors and shelving

New built-in closets with organizers

New bedding with custom mattresses

New bed frame with storage underneath

More hanging space with the most underrated invention ever, wall hooks
Premium Suites at InTown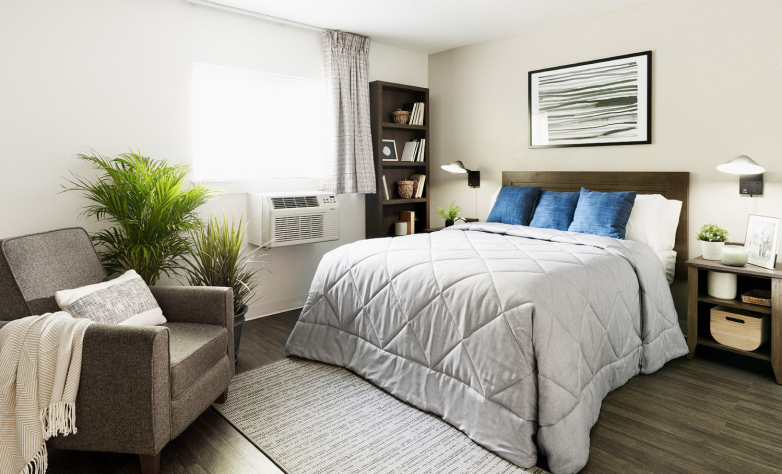 Premium Suites are now available at EVERY InTown Suites property including those in Charleston, SC! If you and your family are seeking a relaxing vacation but still want to enjoy ALL the comforts of home, our Premium Suites will be perfect for you. These suites have been completely renovated from top to bottom. You won't believe how cozy and functional they are. Enjoy a meal in, kick back for a movie marathon or just relax the day away with family fun activities in your suite. 
On top of the already mentioned amenities found in our Traditional and Upgraded Suites, here are the additional amenities you will find in our Premium Suites: 
Fully renovated kitchens with new appliances, cabinetry, sparkling backsplashes and countertops

New dropleaf kitchen tables for expanded dining space

Added comfort and seating with recliner chairs or sleeper sofas

New lift top coffee tables for versatile surfaces and added storage 

Upgraded lighting with USB charging stations

New flooring and furniture
Accessible Accommodations at InTown 
InTown Suites is committed to providing the highest quality lodging experience for all of our guests, including those with disabilities. Therefore, to provide a full and equal experience for our guests, InTown's properties provide a variety of accessible elements and features. 
We have suites with accessible kitchens and bathrooms including roll-in showers, handrails, shower seats and more. In addition, our properties are equipped with accessible parking spaces and pathways. For more accessibility information, please contact the property you plan to visit directly or call our reservations line at 1-800-553-9338.
InTown Suites Charleston Locations
We have four properties in the Charleston area, all of which offer affordable rates. We're here to help you feel right at home during your Charleston vacation. Check out our convenient properties and book your next stay with us today! 

Located in West Ashley at 2236 Savannah Highway, this property offers affordable weekly rates and is only 7 miles from downtown. Find apartment-style suites right off Hwy 17.
Just off Hwy 26 in the Ashley Heights community, this property offers competitive weekly and monthly rates. Easily access downtown Charleston via Hwy 26, less than 15 miles away.  
This property is located 2 miles from the Charleston International Airport and 10 miles from downtown. Weekly and monthly rates are available. If you love shopping, the Tanger Outlets are just across the street. 
This last InTown Charleston property is found on the north end of town off Rivers Ave (Hwy 52) near several large shopping centers. It's only 16 miles from downtown and 8 miles from the airport.