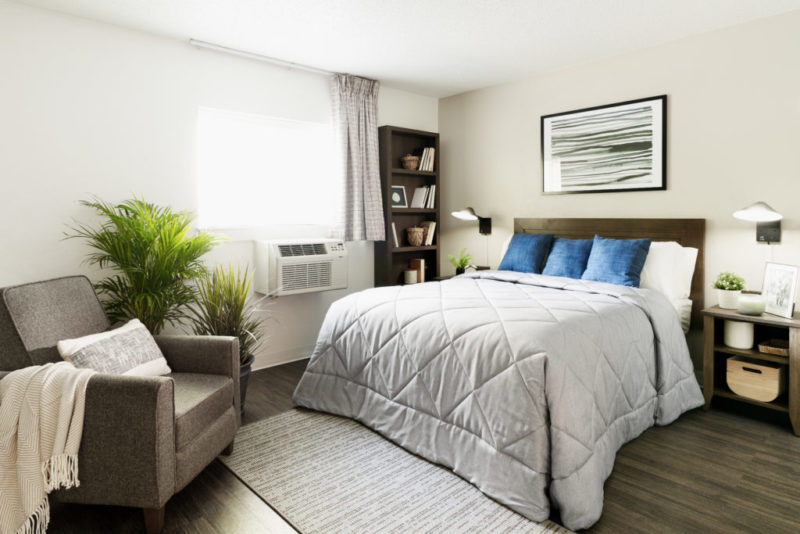 Refreshed & Refined
New & Exciting Renovations Are Making InTown Suites More Like Home
More Storage. Added Comfort. Better Living.
There have been new and exciting things happening at InTown Suites. We have been working on complete and partial renovations to all our properties across the U.S. That's right, ALL our properties have newly renovated suites available! We are covering everything from landscaping and exterior renovations to complete and partial interior renovations for 188 properties. Our new fresh look will make you feel even more at home!
We are committed to providing our guests with the best possible extended-stay experience. We will continue to upgrade, renovate and improve our properties to better serve our guests and our communities. Here's where you can find our new Premium & Upgraded Suites around town: 
Every InTown Suites property offers at least 10 Premium Suites, but many properties offer more than this.

InTown Suites has renovated 26 properties featuring only Premium & Upgraded Suites.

There are now 10 InTown Suites Select properties, which exclusively offer Premium Suites.

See the full list of Select properties here.

 

The remaining 162 properties offer a mix of new Premium & Upgraded Suites as well as our Traditional Suites. 

InTown Suites continues upgrading and renovating all of our properties to offer more Premium & Upgraded Suites at each location.
The Comforts of Home
Premium Suites
Premium Suites at InTown Suites have been fully renovated with amenities that will make you want to stay forever.
Browse Premium Suites
What Are Premium Suites?
New In-room Kitchens
The brand new in-room kitchens have a sleek and modern look with all new cabinetry, new appliances (full-size fridge, two-burner stovetop and microwave), sparkling backsplash and new countertops. 

We've also added a cozy kitchen table for 2 that's perfect for a sit-down meal or just enjoying your favorite show while sipping your coffee. The new dining set includes a modern drop-leaf table and two stylish upholstered chairs. 
New Bathrooms
The bathrooms at InTown Suites have never looked better or been more functional! It's amazing what a new vanity, shelving, wall hooks and a medicine cabinet with extra storage can do!
Added Comfort & Better Living
Guests will experience all new flooring, new furniture and added storage within their Premium suites.

Snuggle up on a brand new custom mattress with new comfy bedding. Bonus–the new bed frame has storage too! Also, lay back and relax in one of the new recliners or sleeper sofas in your suite.

Need to get some work knocked out? Take advantage of our versatile lift-top tables that expand and move where you need them to so you can easily get work done in the comfort of your suite. Once you're done, just press your table down and back into place again!

Storage, storage, and more storage! You asked and we've delivered with built-in closets, organizers and, the most underrated invention ever, wall hooks. All these additions and upgrades will make settling in simpler. We know you will feel right at home as soon as you enter the room!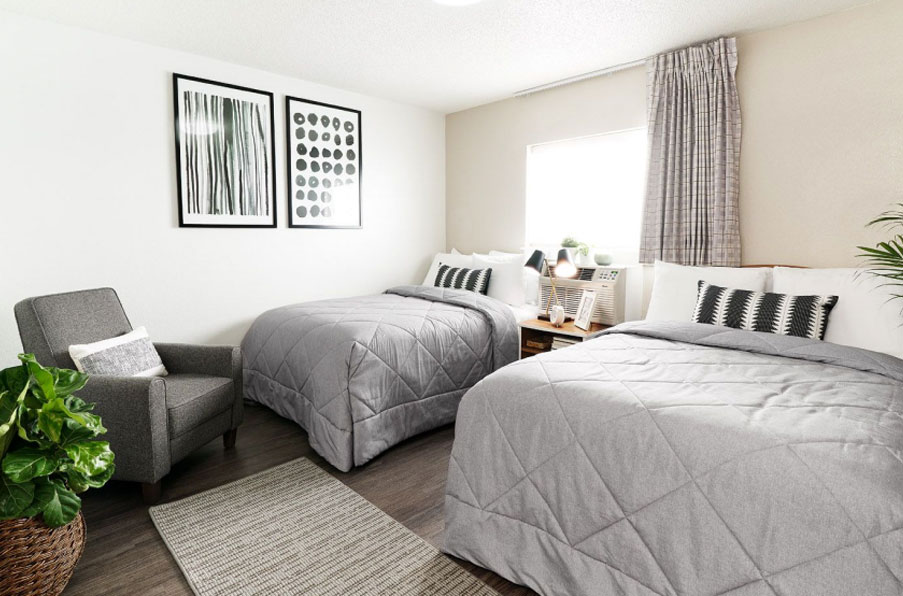 Affordable Extras
Upgraded Suites
Upgraded Suites at InTown Suites have been partially renovated with added amenities and comforts to make your stay even better and, of course, more comfortable.
Find Your Upgraded Suite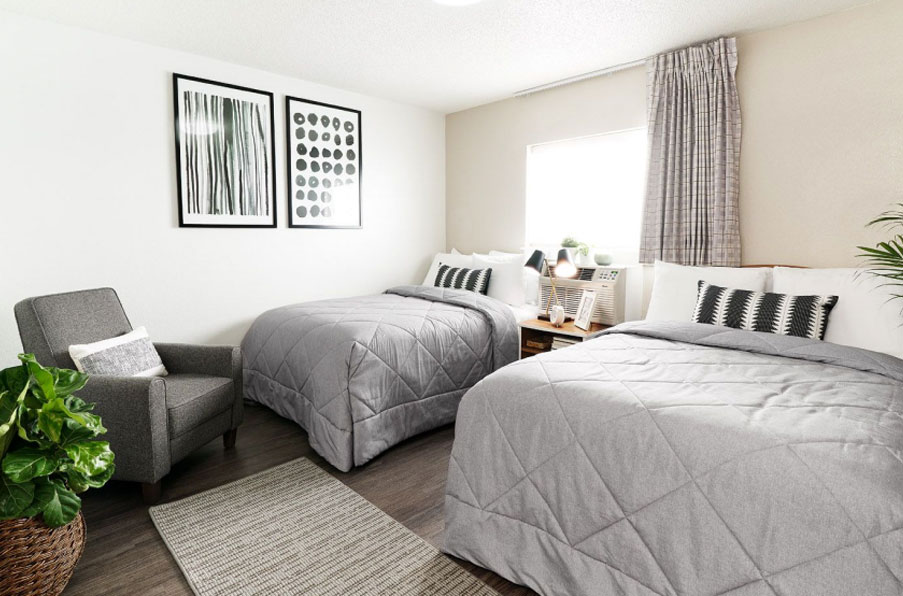 See The Newly Renovated Extended Stay Suites
The extensive renovations at InTown Suites let you choose a traditional, upgraded, or premium suite to fit your needs & budget. Each option includes the extras you'd pay more for elsewhere such as a premium TV lineup, large TVs, comfortable beds, plenty of storage and more. Browse all the new suites and get ready to be more comfortable while you're right at home.