Top 5 Reasons To Choose Extended Stay Hotels Over An Apartment
Whether you are seeking temporary housing, a short-term rental or long-term alternative housing, InTown Suites extended-stay hotels are here to meet your needs. Our apartment-style suites provide all of the luxuries of an apartment without the hassles. Here are a few of the most common reasons our guests choose our extended stay hotels over traditional apartments.
1| Moving is easier with extended stay hotels.
When you are seeking a new place to live, short or long-term, there are many costs you have to consider: moving your furniture (or buying new furniture), deposits at your new location, set-up costs for utilities and more. All of these concerns are eliminated when you rent from an extended stay hotel.
At an extended stay hotel, you will have:
No need to move or buy furniture
No first and last month's rent deposits
No credit checks
No set-up costs for utilities
No lease agreements
All of the suites at InTown are fully furnished and include an in-room kitchen. There is no need to worry about moving or buying a new bed, kitchen table and chairs, dresser, HD-TV or extra seating (like a sofa or recliner chair). All are provided when you stay in our extended stay hotel.
Our fully-equipped, in-room kitchens offer full-size refrigerators, two-burner stoves, plenty of cabinet space and microwaves. We even offer suites with fully renovated kitchens including new appliances, cabinets and countertops. (See the BONUS at the end of our list for more details.)
Furthermore, we require no credit check, no deposit for utilities, no first and last month's deposit and no lease agreement to move in. You will pay for your first month's stay upon check-in, and no additional payment will be due until you renew for your next month.
The rental rates at InTown Suites include:
Water & electricity costs
Local calls with voicemail services
Premium TV channels including SHOWTIME®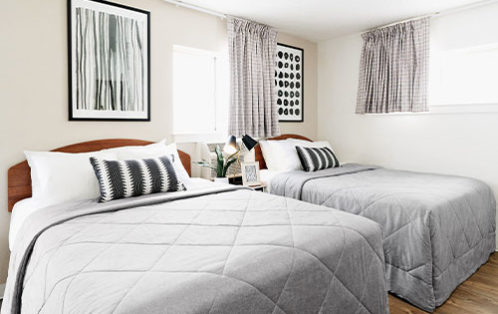 2| Extended stay hotels offer amenities that apartments don't have.
The added amenities that extended stay hotels provide might be something you haven't considered. Beyond being fully furnished with an in-room kitchen, extended stay hotels offer perks that you won't find at an apartment complex.
Extended stay hotels also offer amenities like:
Bed linens
Towels & washcloths
Toilet paper
Garbage bags
Extended stay hotels will greatly cut your costs in more ways than these. There is also regular housekeeping that will not only save you money on cleaning supplies but also the time of cleaning. InTown Suites also provides on-site laundry facilities and high-speed internet access to all of its guests.
Bonus at InTown Suites:
At InTown Suites, our weekly housekeeping services are certified with the Triple Checked Clean process. This means you can be confident your suite has been cleaned, sanitized and inspected for the highest quality of safety. Read more about how our rooms and common areas are cleaned and maintained.

3| Extended stay hotels are conveniently located in town.
You have heard the saying, "Location. Location. Location." When it comes to choosing temporary housing, be sure to consider location. Most apartments you find will be located in suburban areas, away from the hustle and bustle of town. Extended stay hotels are normally found within the city near shops and stores.
Extended stay hotels are conveniently located in town near:
Public transportation
Grocery stores
Pharmacies
Big box stores
Beauty salons
Hardware stores
Shopping complexes
And more!
The convenient location of InTown Suites' extended stay hotels is yet another reason to rent one of our suites over an apartment. Our nearly 200 locations across the US have strategically been positioned in town to provide convenient access to necessity stores and specialty shops.
For further convenience, InTown Suites has partnered with Shipt Delivery. This delivery service provides quick and easy grocery delivery right to your door for a small monthly membership fee. Read more about Shipt Delivery services, and download the app today.

4| Renewal is easy & flexible at extended-stay hotels.
When you are renting from an apartment, you will be required to sign a lease agreement committing you to that location for the specified amount of time. Extended stay hotels don't require the signing of a lease. You have the flexibility to renew at the end of your stay for additional time or not.
At InTown Suites, we offer flexible nightly, weekly and monthly rates to simply your renewal process. You can easily renew your stay for as long (or short) as you need. With our online payment portal, you can renew your stay at any time from the convenience of your room.
5| Apartments are more expensive than extended stay hotels.
Upon comparing the rates of apartments to extended-stay hotels, you are sure to save! When you look at the monthly rates side by side, they may be the same or very close, but when you factor in the extras we have mentioned, the savings begin piling up.
An extended-stay hotel will save you money on:
Utilities like cable, gas, water and electricity (because they are included)
Furniture costs (because they are fully furnished)
Linen costs (bed linens, towels and washcloths are provided)
Extra amenities (garbage bags, grocery delivery service available)
Housekeeping (saving you the time of cleaning and the money for supplies)
At InTown Suites, we are constantly checking our competitors' rates to be sure we are providing the best rates possible. You are sure to save at our extended stay hotel with our competitive rates and added amenities.
*Bonus| InTown Suites features newly renovated extended stay accommodations.
Another reason our extended-stay suites are better than apartments (and other extended stay hotels) is our newly renovated suites. InTown Suites now offers three styles of suites.
Ready to book your extended stay suite? Check out our convenient locations across the US and the competitive nightly, weekly and monthly rates we offer to our valued guests.